Check out Yelp reviews: https://www.yelp.com/biz/lins-graphics-sugarloaf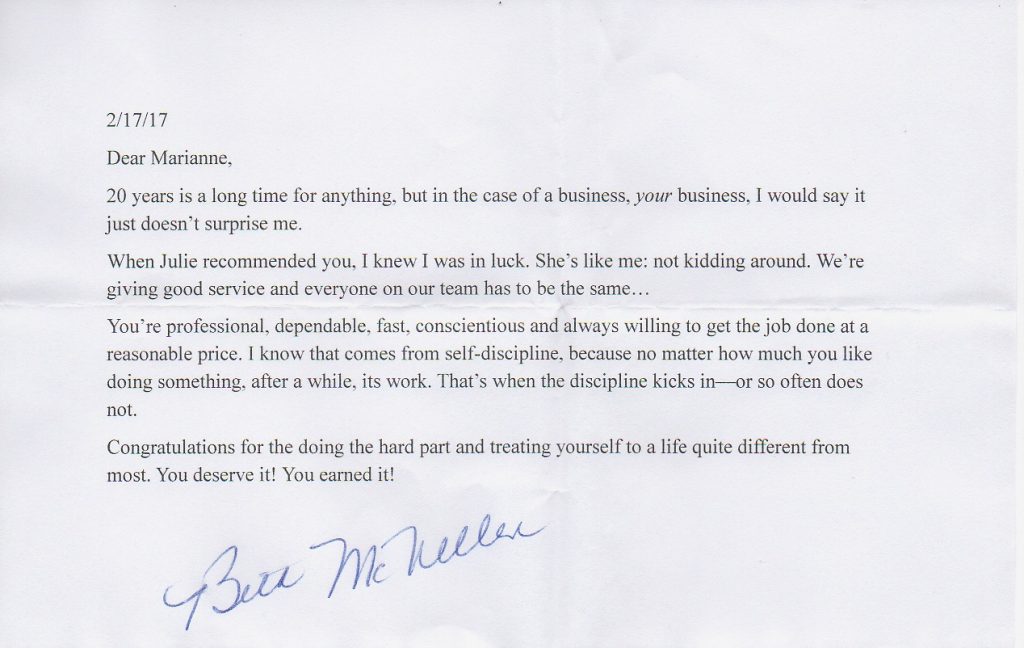 Some of these testimonials were collected from an anonymous survey, which is why sometimes I can't provide names — I don't even know who said them! Please ask for references.
Marianne always responds quickly to calls and requests. She was able to understand my visualization and create it from scratch — and quickly! She really helped enhance my book 'Circle', bringing special touches, and she's fun to work with. Two thumbs up. – Syd Blue, author and producer
It's been an absolute pleasure working with Lins Graphics. Although we are on opposite sides of the U.S., it has made no difference in getting the job done. Lins Graphics proved from the beginning of the project that they would be able to get the work done on time. Each stage of the project — from initial layouts to proofing to completing the job — was a breeze. I'm looking forward to working on our next project together. – Vicki, VLS Studios, Maryland
Marianne at Lins Graphics is a valuable tool for our business. We have consulted her on many projects, with not only unique concepts, but with prompt response. Marianne has a smooth approach towards our needs and always has a " ITS NO PROBLEM " attitude. We are happy to have Marianne's professionalism at our disposal. " We can do it " is Lins Graphics! – Roy Harding, Owner/Chief Pilot, HELICOPTER BIG BEAR
Working with Marianne is like having a second "me" – she takes whatever bits I hand her, my one-time instructions, and just ends up handing me EXACTLY what I envisioned, without any effort on my part, and in half the time I expected it! – Beth Stengel, Warner Home Video
Although I never see Marianne, it's like having my own personal in-house graphics department. I never have to worry about her missing a deadline. Plus, she makes me feel like I'm her only client. She returns phone calls and emails promptly. With the current file transfer technology, we haven't had to use a messenger or overnight courier service in years.
Marianne is the artist I chose for my board game. I did not know her prior to hiring her. She is not only thoroughly professional, but an absolute pleasure to work with. She has the ability to offer keen opinions and to deliver exactly what I want. – Rich Negrete, "Rock of Ages" Trivia Game
Marianne always does her best and she really has great ideas. I am a printer and forward her any clients that I think would benefit from her experience and ideas. – Pete A. Gigliotti, Armstrong Printing Co.